Wine can be the perfect holiday gift, especially for those people who have already have everything they need! Bottles don't take up so much space and specially gifted bottles can make memories of the holidays last a bit into the New Year. I love gifting consumables (specialty foods & wines) as we all live around so much clutter these days.
Frédéric Duverger, our resident sommelier of Cook'n With Class Uzes has written a wonderful guide to some other wines to accompany your holiday meals here. 
Since I've lived abroad for over 10 years, I often do much of my holiday shopping online and have the items shipped directly. We don't often think of buying wine online, but this is typically how I order wine, especially for gift giving and even during the year to stock my cellar.
With the end of the year celebrations quickly approaching, I will highlight a few websites throughout the world that specialize in shipping wine. I've listed my favorite small-grower champagne that is sold at each of these websites.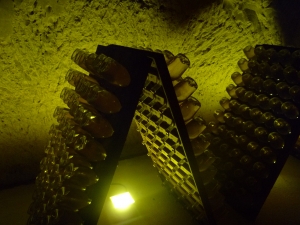 The small grower champagnes offer a great introduction into the world of boutique winery champagne, one that is overshadowed by the big name brand champagnes that everyone can easily get his or her hands on.
The champagnes featured below will be a more special experience, giving a greater expression of the unique terroirs in Champagne. Gifts with a story behind them and ones made with the own two hands of the wine-maker are the best.
USA
Premier Champagne: http://www.premierchampagne.com/
This user-friendly website has thousands of references. I used them last year for much of my holiday shopping and the bottles arrived in perfect condition. There are a few states in the US that do not allow for direct shipping of wine, so please check the list.
Preston's pick: Diebolt-Vallois Prestige Blanc de Blancs, $59.95
CANADA
Each province has different rules, but the BC wine shipper Everything Wine (http://www.everythingwine.ca/) has a great selection. Amongst the smaller grower champagnes, my pick is:
Preston's pick: Veuve Fourny & Fils Grand Reserve, $65.49
AUSTRALIA
In Australia, Langton's (https://www.langtons.com.au/) has an excellent selection of grower champagnes.
Preston's pick: Agrapart & Fils l'Avizoise Extra Brut 2006, $175.00
UK
Berry Brother's & Rudd (http://www.bbr.com/buy-wine), one of London's best wine merchants has set up a beautiful and easy to use website which allows for UK shipping. They also have a great selection of other wines.
Preston's pick: Eric Rodez Blanc de Noirs, £37.95
FRANCE & ABROAD 
Lastly, I must mention my friend Fanny Heucq's champagne boutique in Paris, Dilettantes, that ships to many countries in the world! http://www.dilettantes.fr/
Their website does not yet accept orders to be sent abroad, but you can either e-mail or call to place an order. And the best part is you do not pay the 20% VAT tax as the bottles are being shipped outside of France!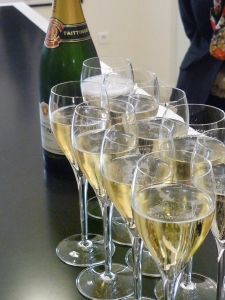 Enjoy!
Preston