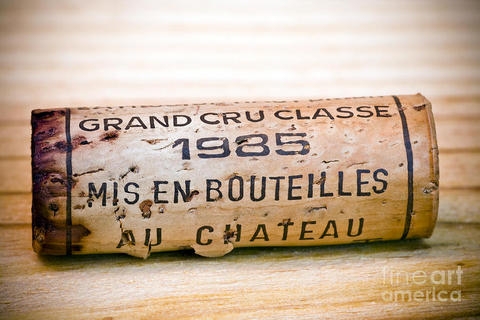 The New Year happens to coincide with the launch of my new website, www.parisbytheglass.com! I am very excited to finally have all of my professional activities grouped in one place.
As many of you know, the year 2013 was a busy year for me. I started working with Context Travel as a food docent in the spring and continue to love sharing my passion for French food and wine with their clients. I couldn't be happier working with Context as they are very professional and organized.
I have grouped all of my walks for Context under Services, Gourmet Food & Wine Walking Tours of Paris and do not hesitate to send me a message to ask further questions about each walk that I offer.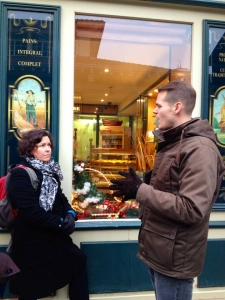 Here I am on a recent Paris Market Walk with some lovely clients
Late winter is always a slow time for most people in my profession, people who deal primarily with tourists. It's a time to regroup, regenerate and dream up our new ideas before we are inundated with requests and business once the weather starts to improve and the Paris tourist flood-gates are opened.
I've been taking full advantage of this time to revamp my website with the help of the amazing Cedric from Mosaique Studio. He's been a pleasure to work with and has made this daunting task much more enjoyable and easy.
This slower time has also allowed me to begin thinking of the new services and classes that I will offer in 2014.
I'm proud to announce our fabulous new and shiny Sparkling Paris Champagne Class offered in partnership with Cook'n With Class. We had our pilot class on December 30th, 2013 and it was a huge success. This class is the culmination of many ideas of my own and the assistance of my friend Fanny at Dilettantes, La Maison du Champagne who supplies the beautiful grower champagnes on offer during this two hour class.
My day-trips to Champagne were high demand in 2013, but I wanted to offer the same experience with a "virtual" tour for those without the time to spend an entire day out in the vines.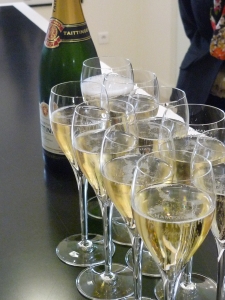 Visiting Taittinger on my Champagne Day Trip
I am an eternal optimist and can't help but notice the extra 2 minutes of daylight after the winter solstice and the slightly balmier air here in Paris. I love spring and cannot wait for it sneak up on us. If we all could only channel this breath of fresh air at the same time, Paris would be a happier place at this time of year.
I do, however, agree that it can be hard to be optimistic after the holidays. We're all a bit heavier than going into it and probably have enjoyed a bit too much wine over the past few weeks, but January should be looked at as a new beginning, a time to rejuvenate our spirits and to reconnect with those lovely people we seemed to miss during the hustle and bustle of the holidays. And dare I say, take a few days off wine, which is important.
I am delighted to spend this next beautiful year of 2014 with all of you, my dear blog readers, clients and friends! Enjoy and I wish you a year filled with lots of bubbles, health, happiness and good company.
Cheers!
Preston
https://www.parisbytheglass.com/wp-content/uploads/2014/01/Bouchon.jpg
320
480
Preston
https://www.parisbytheglass.com/wp-content/uploads/2013/04/paris-by-the-glass-300x111.png
Preston
2014-01-06 17:14:35
2018-06-06 11:34:34
Happy 2014!