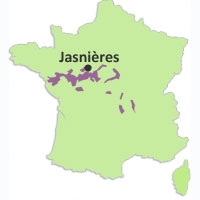 I was out to dinner last night with some good friends and my eyes were immediately drawn to a wine on the restaurant's list: a Jasnières. It also happened to be the least expensive white wine on their menu!
I was thrilled to see a Jasnières with a bit a bottle age (2008) and one for only 32€ so I promptly ordered a bottle for the table. As I was dining with 4 other wine-loving friends, I knew a bottle of this lovely wine wouldn't last long and we were planning on getting a red after (we had just finished a bottle of Ruinart Champagne as an apéritif).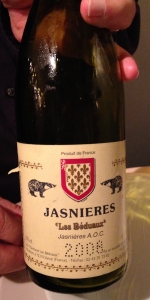 Our group loved the badgers on the bottle. Although all of us at the table were bilingual French/English speakers, we had to look up the word for badger in French which is un blaireau. Not a word you use everyday!
Legend has it that Henri IV greatly appreciated these wines. Although, it sounds like he pretty much liked all wines and was probably a bit of a wino. I mean, how could he not become one when the first liquid to touch his lips were droplets of the gorgeous sweet wine of Jurancon from South West France?
The server/proprietress really knows her wine (and she didn't know me, or know that I knew about wines) and so after I ordered it she double checked to make sure I knew what we were getting into! Jasnières not a wine for quaffing or guzzling on a hot day without any commentary. A good Chenin Blanc with a bit of age is always what I call a contemplation wine. I appreciated her question and I suppose most people who were just ordering it because it was the least expensive on the list may be disappointed.
To find the tiny Jasnières AOC, click on the map image and find Vouvray roughly in the middle of the map. Follow in a straight line to the north.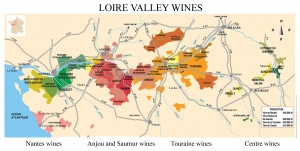 Jasnières covers 65 hectares (160 acres) of calcareous-clay hillsides, all facing south or south-east in this cool region. Only white wines are made from the Chenin Blanc grape.
And indeed it went remarkably well with all of our starters (small raviolis stuffed with cheese in a creamy sauce, some beautiful dim-sum like langoustine dumplings and my foie gras maison). The freshness zest of Chenin always rings through, even after a few years of age and offers a cleansing sensation when eating anything rich or creamy. This bottle could even be kept another 5-8 years, in my opinion. Like all good whites, do not serve them too cold!
By the time our mains had arrived, we had moved on to a delicious 2004 Gevrey-Chambertin 1e Cru Les Champeaux from a favorite, Domaine Tortochot. A bit more pricey at 72€, but when you consider we all are willing to spent 5-6€ on a glass of terrible wine in a café, this was a meagre price to pay for a 10 year old bottle of wine. It's so hard to find older vintages in restaurants!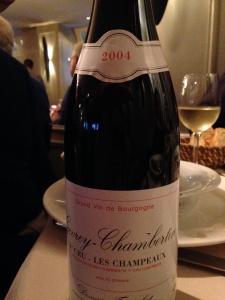 So next time so see a little hidden gem like this on a wine list, grab it!
Cheers & santé!
https://www.parisbytheglass.com/wp-content/uploads/2014/05/Jasnieres-wines.jpg
200
200
Preston
https://www.parisbytheglass.com/wp-content/uploads/2013/04/paris-by-the-glass-300x111.png
Preston
2014-05-29 14:43:08
2014-05-29 14:51:42
Jasnières - a hidden gem of the Loire